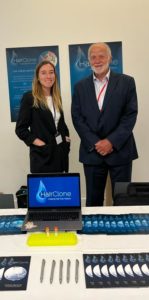 Global Health and Pharma (GHP) is an information sharing platform and magazine launched in 2015 to communicate the latest advancements within human, animal and environmental health to a global readership.
HairClone is proud to have been awarded Follicle Biotechnology Company of the Year, 2023. The award falls under the International Life Sciences category, acknowledging the innovations and challenges overcome by companies within this rapidly progressing sector.
GHP's annual Healthcare and Pharmaceuticals Awards recognise the innovations and contributions made to improving the medical field. Winners are chosen by an impartial panel of 5 individuals who research and fact-check all nominees and their contributions within the sector. The 2023 awards mark the 8th edition of the programme.
HairClone operates the world's first hair follicle bank, allowing whole follicles to be cryopreserved and stored for later use in emerging cell therapies for regenerative medicine.
HairClone is working towards a treatment for androgenic alopecia using dermal papilla cells multiplied from banked follicles to replace those lost during the progression of the disease. Once treatment becomes available, it could transform the lives of those suffering from the condition.
HairClone's approach is unique in its goal of restoring hair density long-term, rather than just delaying loss or transiently stimulating growth.