What is Follicle Banking?
Follicle banking involves surgically extracting around 120 hair follicles at a HairClone partner clinic (list of clinics below).
Follicles are sent to HairClone and cryopreserved at temperatures so low that cells enter 'suspended animation' and do not age.
Follicles remain the property of the patient and can be requested at any time for HairClone's cell therapy or other potential treatments.
A single banking procedure provides enough follicles for multiple treatments.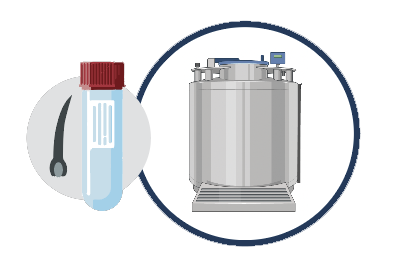 Why Bank Now?
Hair cell quality and number decrease with age. Banking early 'stops the clock' and retains high cell activity.
Those with banked follicles will be first in line for HairClone's personalised cell therapy as soon as regulatory approval is obtained.
Banking provides early revenue to HairClone in order to accelerate bringing our revolutionary treatment to the clinic.
How Do I Bank Follicles?
Follicles can only be banked at HairClone's partner clinics that have been trained and licensed as procurement centres. Please see the list below for locations of our clinical partners.
Frequently asked questions