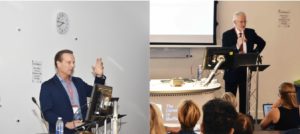 Internationally renowned hair transplant surgeons, and HairClone clinical partners, Dr Jerry Cooley and Dr Russell Knudsen presented talks on the challenges in hair transplant surgery at the BAHRS's annual conference on the 13th June in Sheffield.
As former presidents of The International Society of Hair Restoration Surgery (ISHRS) and with years of experience running successful hair transplant clinics, both Dr Cooley and Dr Knudsen possess a wealth of knowledge on hair transplantation surgery, making their presence at the conference greatly valuable.
Speaking on 'Dealing with poor growth results' and 'Repairing bad hair transplant results' respectively, Dr Cooley and Dr Knudsen highlighted a growing problem of repairing incorrectly performed hair transplant surgeries that are often carried out by non-medical professionals.
The ISHRS is a global association with over 1,000 members dedicated to achieving the highest standards in hair restoration surgery. With the increase in botched hair transplant surgeries, the ISHRS produced a campaign called Fight the FIGHT– Fraudulent Illicit and Global Hair Transplants. The campaign aims to educate patients and raise awareness of the risks of seeking 'black market' hair transplantation surgery with non-licenced, non-professional individuals. These surgeries can result in disfiguring and unnatural results and carry a high risk of infection.

Dr Jerry Cooley has been performing surgical hair restoration for over 25 years and runs the Cooley Hair Center in North Carolina USA. The centre specialises in surgical hair restoration, offering follicular unit extraction (FUE) and follicular unit transplantation (FUT) as well as non-surgical alternatives such as platelet-rich plasma (PRP) and FDA-approved medical hair loss treatments.

Dr Knudsen has been performing hair transplant surgeries for over 38 years and runs The Knudsen Clinic which has expanded to multiple sites across Australia and in New Zealand. The clinic offers FUE and FUT surgeries and even has an ARTAS hair transplant robot. Revision hair transplant surgery is also offered for correcting botched surgeries performed elsewhere.
Both Dr Cooley and Dr Knudsen were part of the first group of clinicians to join HairClone's clinical network having believed in the potential for HairClone's cell therapy to fill a much-needed void in patient care.