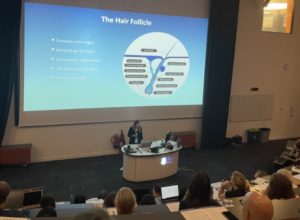 Speaking at the European Hair Research Society's (EHRS) 20th biannual conference, Dr Jennifer Dillon, HairClone's Head of Research, delivered a presentation on banking follicles as a source of cells for therapy titled "Cryopreserved Hair Follicles as a Source of Differentiated and Stem Cells for Regenerative Medicine".
Jennifer's talk began with an overview of the biology of the hair follicle, which contains around 20 different cell types. The presentation covered HairClone's cryopreservation banking strategy whereby hair follicles are taken from patients as part of a minimally invasive, outpatient surgical procedure and frozen for later use as cell therapy. The importance of banking hair follicles early was highlighted as younger cells grow better in culture and have not experienced age-related degradation.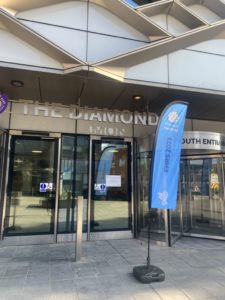 Jennifer also discussed the exciting potential of hair follicle cells to treat both hair and non-hair related disease. This included the potential of dermal papilla cells to treat androgenic alopecia (HairClone's aim) and other hair follicle cells in treating diseases such as limbal stem cell deficiency in the cornea and vitiligo.
The EHRS is a non-profit organisation dedicated to promoting research into hair biology and disease in Europe. The 2023 conference took place from the 14th-16th June in The Diamond Building in Sheffield in the UK. Event organisation was overseen by President of the EHRS, Dr Claire Higgins, who is also a scientific advisor to HairClone.
Over the course of the 3 days, the EHRS hosted a global panel of academic speakers covering a broad spectrum of hair research topicsincluding hair loss and ageing, types of acquired and genetic hair loss, psychological impacts of hair loss, hair loss patterns and hair growth cycles. The next EHRS conference is due to be held in Warsaw, Poland, in 2025.