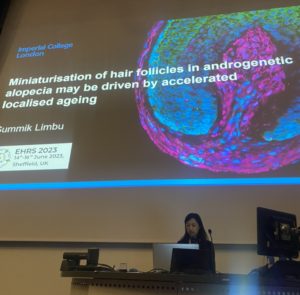 Dr Summik Limbu was awarded the Jurgen Schweizer Prize for best oral presentation in the basic science category for her talk at the European Hair Research Society (EHRS) conference, presenting work carried out during her PhD, which was co-sponsored by HairClone. 
Dr Limbu completed her PhD with Dr Claire Higgins, a member of HairClone's Scientific Advisory Board, at Imperial College London in 2022. Her thesis focused on investigating genetic factors contributing to androgenetic alopecia. Her findings have aided our understanding of the disorder that affects so many men and women.
The European Hair Research Society's (EHRS) 20th conference, held in Sheffield, is a major event for hair research scientists, dermatologists and hair restoration surgeons. Speaking at the conference, Dr Limbu delivered a talk titled "Miniaturisation of hair follicles in androgenetic alopecia may be driven by accelerated localised ageing" within the Hair Loss and Ageing session. The presentation discussed genetic and epigenetic findings on differences between thinning and on-thinning hairs, whereby thinning hair is found to have a higher biological age. More can be found here.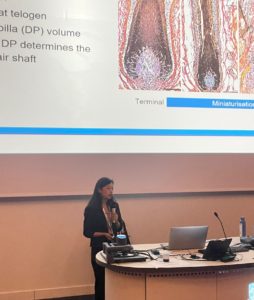 The Jurgen Schweizer prize for best oral presentation at the EHRS meeting was established in 2009 in honour of Jurgen's contributions to hair research, specifically for his role played in understanding keratins. The prize is presented to an outstanding early career scientist in the field of hair and skin research and is a prestigious award in the field. Dr Limbu also received a travel award for the conference as her contribution was deemed important for the conference's agenda. 
Dr Limbu was selected as the winner of this year's prize by an international panel of leading hair researchers and surgeons. Congratulations, we are proud to work with such a talented scientist!