November 2023 marked the 31st annual World Congress of the International Society of Hair Restoration Surgery (ISHRS) in Delhi, India. Between 1st-4th November, hair transplant surgeons from around the world met to discuss the latest advances in hair restoration and research.
HairClone Medical Directors, Drs Bessam and Nilofer Farjo of the Farjo Hair Institute, UK were among hundreds of delegates attending the meeting. Dr Bessam Farjo presented on the use of platelet-rich plasma (PRP) injections during a hair transplant procedure, the latest new medical treatments on the horizon, as well as on the ability to bank hair follicles using HairClone's hair follicle banking service. Dr Farjo emphasised the potential of banking the numerous cell types found within a hair follicle and how they could be used to treat both hair and non-hair-related ailments in the future.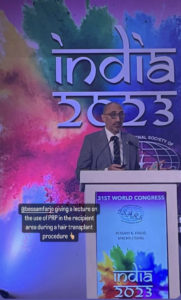 Dr Nilofer Farjo, the immediate past president of the ISHRS, presented on the 'Differential Expression of Macroenvironment Structures in Balding and Non-Balding Scalp', which covered work carried out in collaboration with Dr Claire Higgins, a member of HairClone's Scientific Advisory Board.  
Dr Aditya Gupta, a HairClone Clinical Partner based in Toronto, Canada, was awarded the prestigious 'ISHRS Platinum Follicle Award' that is given for outstanding achievements in advancing the field of hair restoration through clinical or research contributions. Drs Bessam and Nilofer Farjo received this award in 2012 at the ISHRS 20th Annual Meeting in The Bahamas.
Attendees at the conference included additional members of HairClone's clinical network; Dr Sara Wasserbauer (CA, USA), Dr Marie Schambach (Guatemala), Dr Russell Knudsen (Australia) and Dr Robert Leonard (Boston, USA).
The ISHRS yearly meeting represents the biggest meeting on the hair restoration calendar and provides an opportunity for many of the world's leading hair restoration clinicians to learn from one another to maintain top standards and optimise care for patients suffering from hair disorders.