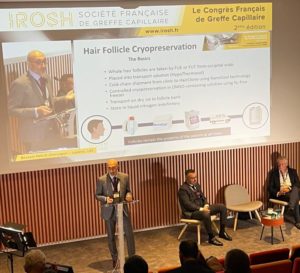 HairClone Co-founders and Directors, Dr Bessam Farjo and Dr Vincent Ronfard were invited to speak at the French Hair Transplant Society meeting in Paris on 13th October 2023.
Dr Bessam Farjo, HairClone Medical Director, gave a talk on the prospects of hair follicle banking, highlighting the possibilities of banked tissues for the future of regenerative medicine and the logistics of this service. Hair follicle banking provides the ability for people to bank tissue for cell therapies that are in development.
Treatments being developed include HairClone's cell therapy for treating androgenic alopecia (pattern balding) that is nearing clinical testing. The treatment involves growing dermal papilla cells that are preserved using HairClone's follicle banking service and multiplying them over 1000 times. The aim is to then micro-inject the cells into thinning regions of the scalp to repopulate miniaturising follicles and restore hair density.
Dr Vincent Ronfard (HairClone's CSO) gave a talk on the history of follicle and cell cloning for treating androgenic alopecia. Dr Ronfard has a long history in cell therapies and bringing treatments into clinical practice.
The latest advances in whole follicle regeneration and follicle rejuvenation using cloned cells were discussed along with their relative complexities for reaching the clinic in a timely and affordable manner.